Home Screen
The Home Screen is the starting point when you login to HOA GO. It also serves as a home base.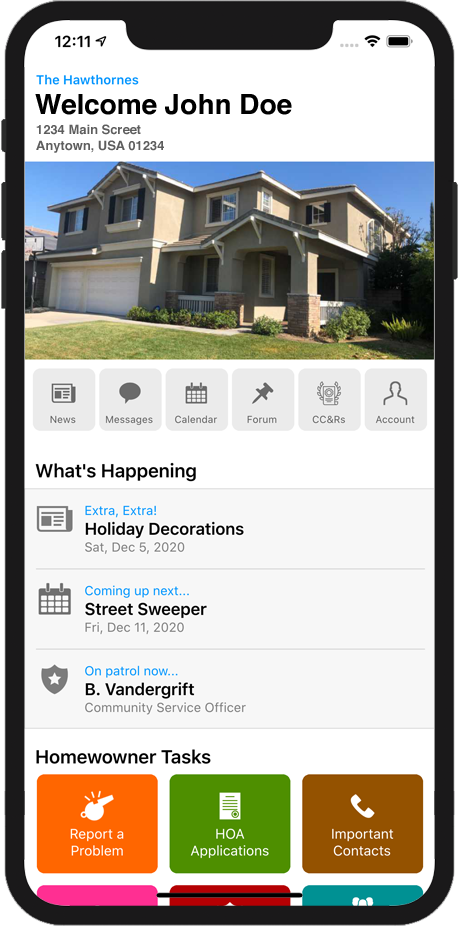 On the Home Screen, you will see your name and address. You will also see a photo of your house or property.
General Features
The Home Screen also contains buttons to get to all the areas of HOA GO:
The News area contains articles posted by your HOA or Management Company about useful topics, current events, special notices, or anything else your HOA wants you to know.

The Messages area contains messages you have received from your HOA or Management Company.

Tapping the Calendar icon will display your HOA's event calendar. The Calendar will list events important to your community.

Tap Forum to display your HOA's forum. The Forum is a public forum (within your HOA) for your community. All members within the community can post and comment to the Forum.

The CC&Rs section contains your HOA's CC&Rs. It may also contain other documents posted by your HOA such as By Laws, Guidelines, Election Rules, Regulations, and more.
What's Happening
The What's Happening area shows you the latest updates on several things:
Extra! Extra!
This area shows you the latest News Article.

Coming Up Next
What's next on your HOA Calendar.

On Patrol
Who's on patrol right now. Note that this option will only appear if your community is using the security features of HOA GO.
Homeowner Tasks
This area contains buttons to access specific tasks you can do as a homeowner.
Report A Problem
Use this to report a problem or situation to the HOA Board or Property Manager.

HOA Applications
Use this area to start or edit a HOA Application (such as a paint or landscape form).

Important Contacts
This area lists contact information for the HOA, local services or utilities, and other people or groups your HOA wants you to know.

Ask A Question
Use this option to ask your HOA Representative or Property Manager a question.

Alert Security
Use this option to report a problem or situation to your HOA's security. Note: This option only applies if your HOA is using HOA GO's Security Features.

HOA Board Items
This option will list the members of your HOA Board and other items like the Minutes and Meeting Agendas.

HOA Map
Use this feature to display a map of your entire HOA and list each property in your HOA.

App Support
Use this option to send an email to the HOA Support team. This email will go to the developers of HOA GO, not your HOA.
Special Account Items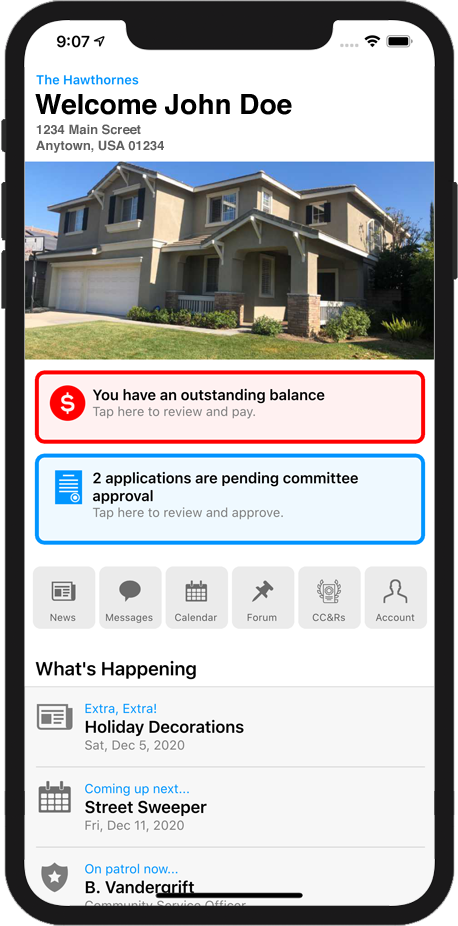 On the Home Screen, you may have some additional items. These items are specific to your account and are important for you to know.
For example, you might have an outstanding balance, or an outstanding violation. Or perhaps an HOA Application has changed status.
These special account items will appear at the top of your home screen and will automatically be removed when that issue is resolved, or no longer applies to your account.